Business Challenge
Northwestern University Information Technology (NUIT) delivers computing services to nearly 25,000 students, faculty, and staff across three campuses in Illinois. With limited visibility into application performance, health, and availability, NUIT had to manually review problem logs to track down the source of issues. Resolution was time-consuming and inefficient, as support teams were unable to collaborate around data. In many cases, poor application performance and availability led to a less than favorable user experience.

BMC Solution
NUIT uses TrueSight App Visibility Manager (formerly BMC End User Experience Management) to power a web-based capacity and availability service monitoring dashboard that keeps IT teams informed of potential performance problems and enable thousands of university end-users to check the status of their web applications.
Business Impact
The BMC solution empowers both NUIT and the end users it supports with real-time visibility into application performance and issues.
Robust real-time and historical data accelerate problem detection and resolution to improve the user experience.
Putting the right data in the hands of the operations team and application owners has saved hours of staff time and improved collaboration on issues.
Accurate measurement and tracking of key performance indicators (KPIs) demonstrate quality of service based on concrete data to improve decision-making.
Visibility into the performance, health, and availability of applications has improved end-user satisfaction.
"We have an accurate way to measure usage, performance, and availability. Instead of relying on hearsay, we have a baseline for an intelligent conversation about performance. This lets us meet our obligation to all of our users and deliver the services they expect from a world-class university."

— Dana Nielsen, Director of Monitoring and Management Systems, Northwestern University IT
Let's discuss your transformation
APM best practices to drive digital success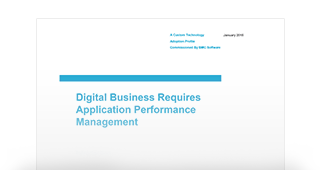 Forrester Research: Digital Business Requires Application Performance Management