Discovery 11.x: Advanced Application Modeling
This course enables users to extend and maintain a BMC Discovery deployment beyond the initial baseline. It also enables users to model the complex custom software using the Start Anywhere Application Mapping (SAAM), Collaborative Application Mapping (CAM), and The Pattern Language (TPL) features. This course also covers creating custom patterns used in CMDB Synchronization.
Included in this course is the examination for BMC Accredited Administrator: BMC Discovery 11.
Good for:
Configuration Managers, Project Managers
Course Delivery:
Instructor Led | 40.00 Stunden
Course Modules
Edit Pattern Templates

Download Pattern Templates
Edit a Simple Software Instance (SI) Pattern Template
Upload a Simple SI Module

SI Version Package Template
Business Application Instance (BAI) Template
Best Practices for Developing Solutions

Develop and Debug Patterns
Efficient Regular Expressions
Prepare for Modeling
Collaborative Application Mapping

Extend Directly Discovered Data
Construct SIs and BAIs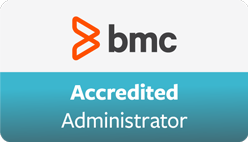 Accreditation is available upon successful completion of this course.