BMC Certified Associate: Digital Workplace Catalog 3.x Online Exam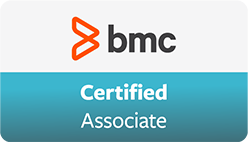 Online Assessment
BMC Digital Workplace Catalog is an enterprise application store solution designed to be the center of your digital workplace. Through a single administration dashboard, IT departments can aggregate, manage, deliver, and track hardware, software, and services from multiple cloud-based and on-premises sources.
BMC Digital Workplace Catalog integrates with external fulfillment systems through service connectors, custom interfaces to enable communication between the catalog application platform and the different fulfillment systems.
The BMC Certified Associate: Digital Workplace Catalog 3.x Online Exam will validate the technical competencies needed to successfully administer and operate out-of-the-box (OOTB) functionality for BMC Digital Workplace Catalog.
Major release:
BMC Helix Digital Workplace 3.x
Course Delivery:
Web Based Training (WBT) | 2 Stunden
Steps to Certifications