TrueSight App Visibility Manager 10.x: Fundamentals
BMC TrueSight App Visibility Manager ensures application performance in your multisource IT environment. It helps you monitor different application tiers and allows you to drill down further to view related events, devices, transaction traces and services. This approach delivers real-time visibility and end-to-end solution.
This course combines classroom instruction with laboratory exercises to guide students through the fundamentals of BMC TrueSight App Visibility Manager. Students will develop skills in: product installation, administration and configuration, monitoring applications using the TrueSight console, working with AD agents, and synthetic monitoring.
Major release:
TrueSight AppVisibility 10.x
Course Delivery:
Instructor-Led Training (ILT) | 32.00 Stunden
Course Modules
Synthetic Transaction Monitoring

Synthetic Transaction Monitoring Overview
Installing TEA Agent
Working with Synthetic Transaction Monitoring using TrueSight Console
Setting Thresholds for Synthetic Data

Installing Borland Silk Test
Overview of recording and Importing Synthetic Script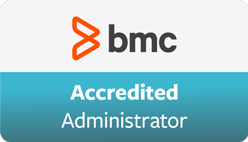 Accreditation is available upon successful completion of this course.