BMC Certified Professional: AR System 20.x for Developers Online Proctored Exam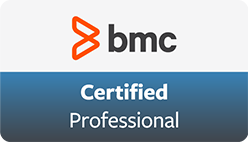 Online Proctored Exam
BMC Action Request (AR) System is a professional development environment that leverages the recommendations of the IT Infrastructure Library (ITIL) and provides a foundation for Business Service Management (BSM) solutions. It enables you to automate business processes without learning a programming language or using complex development tools.
BMC AR System application is a tool that you create to track data, processes, and issues. An application is an entity that consists of forms, workflow, and related objects that you have created in BMC AR System server. Forms collect and display data, and workflow directs the actions of the application. For advanced level of development, various concepts like Workflow Guides, Tables, Floating Panels, Form Views and Process commands are available.
The BMC Certified Professional for BMC AR System Certification Exam will validate the technical competencies needed to successfully develop and administer the functionality for BMC AR System.
Recommended Prerequisites:
Good for:
Administrators, Developers
Course Delivery:
Web Based Training (WBT) | 2 Stunden
Steps to Certifications
Step 1. Take the recommended courses for the Certified Professional learning path. The last course in the learning path includes one certification exam attempt without further charges. There will be 50% discount on additional attempts of this exam. OR If you haven´t taken the recommended courses, purchase the required exam (attempts).
Step 2. Study and prepare for the exam. BMC recommends 6 weeks and also a minimum of [3] months experience with the product before taking the exam.
Step 3. Take and pass the exam.
Step 4. If you have failed the exam, purchase another exam attempt and start at step 2.
Examination Details
Recommended BMC Software Courses to Prepare for the Certification
BMC AR System 20.x: Fundamentals Administering (ILT/VILT)
BMC AR System 20.x: Fundamentals Developing – Part 1(ILT/VILT)
BMC AR System 20.x: Fundamentals Developing – Part 2(ILT/VILT)