Featured innovations
To further enhance hybrid-cloud environment management, BMC Helix now supports Oracle Cloud Infrastructure (OCI) in addition to Amazon Web Services (AWS), Microsoft Azure, Google Cloud, and IBM Cloud, which you can test drive in the free BMC Helix cloud migration simulator.
BMC Helix now supports Kubernetes (K8s) log collection, expanding the scope of observability data collection that can be used in root cause isolation.
Business service "what-if?" simulations have a new, updated user interface and now support Kubernetes deployments.
BMC Helix Dashboards can now predictively visualize time-series data from within a dashboard panel.
Learn more about these and other innovations in the What's New video on the right side of this page.
Service excellence
BMC Helix Discovery helps you to deliver excellent service by making more informed decisions about IT service and asset management across your entire enterprise infrastructure. New capabilities enable you to:
Securely and efficiently discover and manage Google Virtual Machines
Gain deeper insight and understanding into the relationships, dependencies, and interactions between mainframe components and distributed resources
Increase visibility augmenting discovery information with intelligent integrations with rich asset and dependency information from third-party data sources
Reduce complexity and time using AWS organizations to simplify the discovery of multiple AWS accounts with minimal configuration and management overhead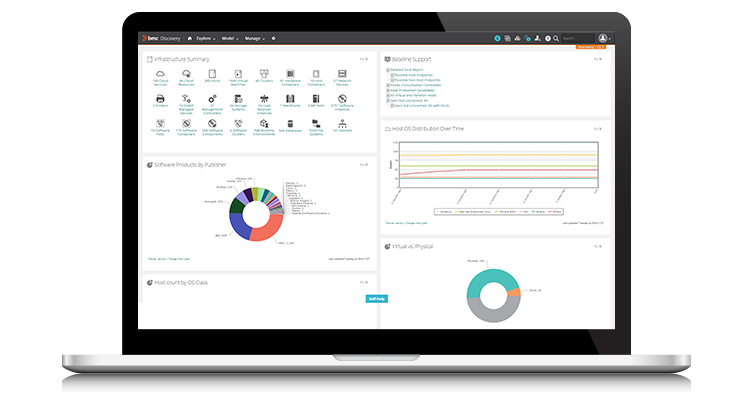 Accelerate innovation
BMC Helix Continuous Optimization provides growth forecasting that accurately predicts and aligns resources with critical business drivers that accelerate innovation. New capabilities enable you to:
Replace time-consuming, manual model development: Provide faster insights and increase decision-making accuracy to align resources with future business requirements
Right-size resources to align with future business requirements: Business Service Prediction uses advanced analytics to forecast growth of each business driver with existing capacity accurately
Increase visibility and service assurance: Dynamic Service Model integration increases visibility of business service health using comprehensive consolidated views of application and infrastructure data
Accurately predict cost and resource requirements for migrations to cloud: BMC Helix Cloud Migration Simulator increases decision-making accuracy when planning for on-premises to cloud migrations to reduce time, complexity, and cost
Reduce risk
BMC Helix Operations Management with AIOps helps improve service, avoid disruptions, and reduce IT risk. New capabilities enable you to increase observability and use service-centric monitoring to:
Reduce service slowdowns and MTTR: Log Analytics and Log Enrichment collects log files across a wide variety of data sources to provide early diagnosis of potential issues
Reduce event noise to improve service: BMC Helix Operations Management integration capabilities enable AIOps to consume service models for Situation and Root Cause Analysis to increase manageability
Reduce complexity and accelerate time-to-value: BMC Helix Operations Management's Service Modeling & Blueprints reduce time to create service models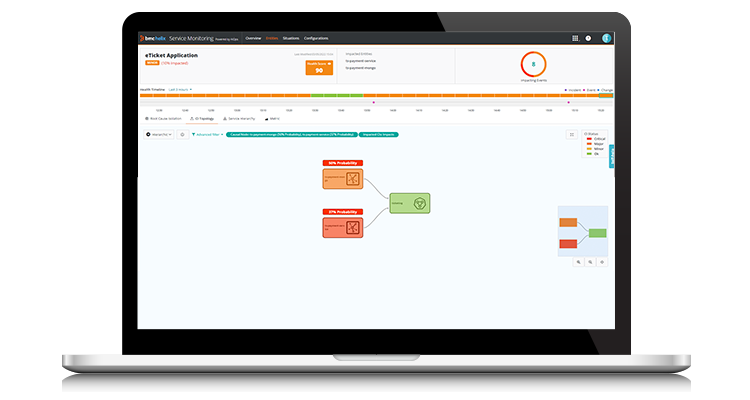 Increase security
BMC Helix Operations Management with AIOps and BMC Helix Platform increase security and compliance by automating policies and change requests. New capabilities enable you to:
Increase compliance and staff productivity: BMC Helix Intelligent Automation automates policies and processes for change requests to ensure appropriate approvals and improve talent management & employee experience
Increase security and minimize risk: Unified views and common notification services ensure data integrity by reducing complexity associated with managing notifications from multiple platform components