We are delighted to announce that we are live with our latest 23.2 Spring release, packed full of new innovations that are the result of BMC's relentless focus on making our customers' lives easier.
BMC Helix Operations Management
In this release, we've rolled out several enhancements for BMC Helix Operations Management, including:
New Service Blueprints: Accelerate service model development so organizations can enjoy capabilities like real-time monitoring and proactive outage alerting sooner
Master Situation: Automatically group related events into a Master Situation, making it easier to assess the scope of an issue and assign remediation to the right team
Situation Explainability: Make it easier to understand why events were correlated and how the root cause was identified with artificial intelligence (AI)-based visual representations
Situation Fingerprinting: Use AI to detect whether a similar issue has occurred in the past, eliminating the need to diagnose the problem again
Log Analytics: Troubleshoot faster than ever thanks to enhanced anomaly detection powered by machine learning. BMC Helix Log Analytics now incorporates an unsupervised deep-learning model that leverages an artificial neural network technique to assess data pre-processing, anomaly detection, and evaluation processes
Intelligent Integrations: Add third-party monitoring data to BMC Helix Operations Management with AIOps faster and easier with new connector support for Kafka, SAP® HANA, and CA UIM and a connector enhancement for CA APM (topology) that combine more data sources, improve AIOps algorithms, and speed up root cause isolation and mean time to repair (MTTR)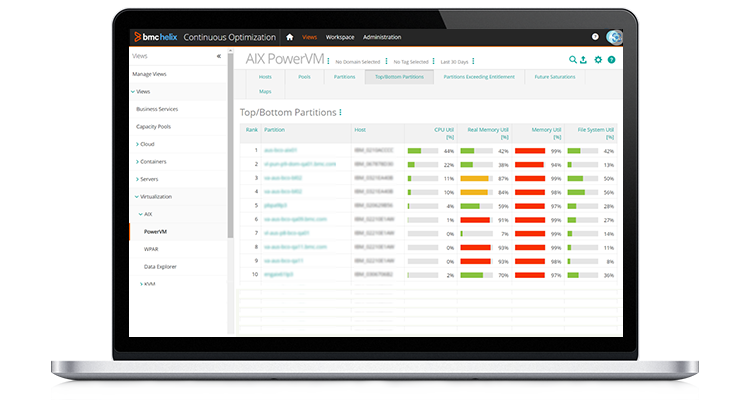 BMC Helix Continuous Optimization
BMC Helix Continuous Optimization 23.2 continues to build on its strong foundation by enhancing capabilities in the migration assessment tool to allow for quicker migrations.
Out-of-the-Box IBM® AIX® Views: Analyze the capacity of the AIX infrastructure and integrate AIX views into BMC Helix Dashboards
Out-of-the-Box Service Risk Dashboards: Gain insight into the overall health and status of a business service by visualizing business service performance based on the correlation between business drivers and the resources of a pool
Dynamic Service Modeling
For IT teams working in complex business environments, finding the root cause of a problem can mean hours spent toggling between systems, dashboards, and log reports. This results in longer resolution times and less bandwidth to spend on strategically important work. Dynamic service modeling—the practice of creating a service infrastructure model that stays up to date in real-time—helps teams work faster and make time for innovation by providing a source of truth for complete infrastructure monitoring.
The first step to enabling dynamic service modeling is to ingest data from sources across your cloud-based, on-premises, hybrid, and third-party environments.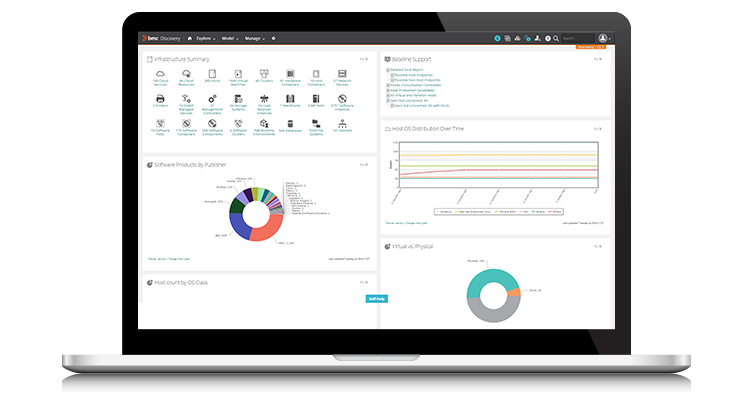 Accelerate innovation
BMC Helix Continuous Optimization provides growth forecasting that accurately predicts and aligns resources with critical business drivers that accelerate innovation. New capabilities enable you to:
Replace time-consuming, manual model development: Provide faster insights and increase decision-making accuracy to align resources with future business requirements
Right-size resources to align with future business requirements: Business Service Prediction uses advanced analytics to forecast growth of each business driver with existing capacity accurately
Increase visibility and service assurance: Dynamic Service Model integration increases visibility of business service health using comprehensive consolidated views of application and infrastructure data
Accurately predict cost and resource requirements for migrations to cloud: BMC Helix Cloud Migration Simulator increases decision-making accuracy when planning for on-premises to cloud migrations to reduce time, complexity, and cost
Reduce risk
BMC Helix Operations Management with AIOps helps improve service, avoid disruptions, and reduce IT risk. New capabilities enable you to increase observability and use service-centric monitoring to:
Reduce service slowdowns and MTTR: Log Analytics and Log Enrichment collects log files across a wide variety of data sources to provide early diagnosis of potential issues
Reduce event noise to improve service: BMC Helix Operations Management integration capabilities enable AIOps to consume service models for Situation and Root Cause Analysis to increase manageability
Reduce complexity and accelerate time-to-value: BMC Helix Operations Management's Service Modeling & Blueprints reduce time to create service models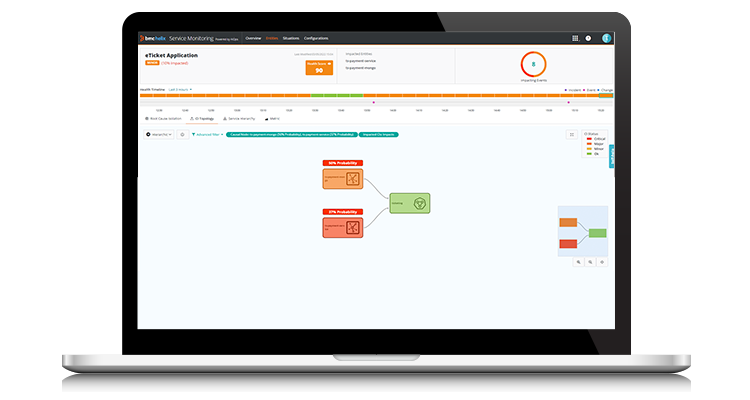 Increase security
BMC Helix Operations Management with AIOps and BMC Helix Platform increase security and compliance by automating policies and change requests. New capabilities enable you to:
Increase compliance and staff productivity: BMC Helix Intelligent Automation automates policies and processes for change requests to ensure appropriate approvals and improve talent management & employee experience
Increase security and minimize risk: Unified views and common notification services ensure data integrity by reducing complexity associated with managing notifications from multiple platform components