BMC Certified Associate: Helix Chatbot 20.x for Administrators Online Exam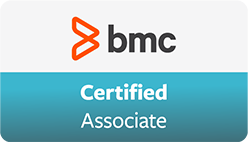 Online Exam
BMC Helix delivers cognitive service management that is fast, accurate, cost effective and is available to run on your choice of cloud, in a hybrid model, or in your own data center. The BMC Helix solution's cognitive capabilities, meanwhile, can help reduce support costs. For example, intelligent chatbots can handle user queries and questions.
BMC Helix Chatbot is such an application that interacts with users through natural language, understands the conversation context, and performs tasks on behalf of the user. It helps users to resolve their issues or search for any information they need by providing the capabilities, such as immediate assistance to issues raised by the users and provides easy-to-find information, reduction in human error and dependency by eliminating human intervention for certain tasks, and reduction in company's costs and resources.
To ensure development and deployment of chatbot applications in BMC Helix Innovation Studio is performed to best practice standards, BMC Software maintains a technical certification program.
The BMC Certified Associate for Helix Chatbot Certification Exam will validate the technical competencies needed to successfully develop and deploy the Chatbot applications in BMC Helix Innovation Studio.
Steps to Certifications
Step 1. Take the recommended courses for the Certified Associate learning path. The last course in the learning path includes one certification exam attempt without further charges. There will be 50% discount on additional attempts of this exam.
OR
If you haven´t taken the recommended courses, purchase the required exam (attempts).
Step 2. Study and prepare for the exam. BMC recommends 6 weeks and also a minimum of [3] months experience with the product before taking the exam.
Step 3. Take and pass the exam.
Step 4. If you have failed the exam, purchase another exam attempt and start at step 2.
Examination Details
Note:
Additional Recommended Resources to Study
BMC Helix Chatbot and BMC Helix Cognitive Automation Documentation
BMC Helix Chatbot Service Communities
Recommended Experience
Minimum 3 months experience deploying, operating or administering BMC Helix Chatbot